Humana (NYSE:HUM) updated its FY18 earnings guidance on Wednesday. The company provided earnings per share guidance of $13.50-14.00 for the period, compared to the Thomson Reuters consensus earnings per share estimate of $12.45. The company issued revenue guidance of $55.8-56.4 billion, compared to the consensus revenue estimate of $56.57 billion.
A number of brokerages have weighed in on HUM. Zacks Investment Research lowered Humana from a strong-buy rating to a hold rating in a report on Friday, January 19th. Leerink Swann lifted their price target on Humana from $280.00 to $300.00 and gave the stock an outperform rating in a report on Thursday, February 8th. JPMorgan Chase & Co. lifted their price target on Humana from $253.00 to $271.00 and gave the stock a neutral rating in a report on Monday. Jefferies Group raised Humana from a hold rating to a buy rating and set a $221.00 price objective for the company in a research report on Friday, January 12th. Finally, Cantor Fitzgerald reissued a hold rating and set a $250.00 price objective on shares of Humana in a research report on Wednesday, February 7th. Seven research analysts have rated the stock with a hold rating and fifteen have given a buy rating to the company. Humana currently has a consensus rating of Buy and an average price target of $270.47.
Shares of Humana (NYSE HUM) traded down $2.14 during midday trading on Thursday, reaching $265.33. The company's stock had a trading volume of 223,855 shares, compared to its average volume of 1,186,617. The company has a debt-to-equity ratio of 0.48, a quick ratio of 1.61 and a current ratio of 1.85. Humana has a one year low of $203.36 and a one year high of $293.35. The stock has a market capitalization of $36,907.53, a PE ratio of 16.04, a P/E/G ratio of 1.45 and a beta of 0.93.
Humana (NYSE:HUM) last released its earnings results on Wednesday, February 7th. The insurance provider reported $2.06 earnings per share (EPS) for the quarter, beating the Zacks' consensus estimate of $2.00 by $0.06. The business had revenue of $13.19 billion for the quarter, compared to analyst estimates of $13.14 billion. Humana had a return on equity of 16.13% and a net margin of 4.55%. The company's revenue for the quarter was up 2.4% compared to the same quarter last year. During the same quarter in the previous year, the company posted $2.34 earnings per share. equities analysts predict that Humana will post 13.84 EPS for the current year.
The business also recently announced a quarterly dividend, which will be paid on Friday, April 27th. Stockholders of record on Friday, March 30th will be issued a $0.50 dividend. The ex-dividend date of this dividend is Wednesday, March 28th. This represents a $2.00 dividend on an annualized basis and a dividend yield of 0.75%. This is a positive change from Humana's previous quarterly dividend of $0.40. Humana's payout ratio is presently 9.59%.
Humana declared that its Board of Directors has authorized a share buyback program on Thursday, December 14th that allows the company to buyback $3.00 billion in outstanding shares. This buyback authorization allows the insurance provider to buy shares of its stock through open market purchases. Shares buyback programs are typically a sign that the company's board of directors believes its stock is undervalued.
In related news, VP Timothy S. Huval sold 1,382 shares of the company's stock in a transaction on Tuesday, December 19th. The stock was sold at an average price of $246.04, for a total transaction of $340,027.28. Following the transaction, the vice president now owns 11,557 shares of the company's stock, valued at $2,843,484.28. The sale was disclosed in a filing with the Securities & Exchange Commission, which is available at this hyperlink. Also, SVP Jody L. Bilney sold 7,054 shares of the company's stock in a transaction on Monday, December 18th. The shares were sold at an average price of $247.89, for a total value of $1,748,616.06. Following the completion of the sale, the senior vice president now directly owns 11,704 shares in the company, valued at approximately $2,901,304.56. The disclosure for this sale can be found here. Insiders have sold 10,115 shares of company stock worth $2,501,627 in the last ninety days. 0.80% of the stock is currently owned by corporate insiders.
COPYRIGHT VIOLATION NOTICE: "Humana (NYSE:HUM) Releases FY18 Earnings Guidance" was posted by Week Herald and is the sole property of of Week Herald. If you are accessing this story on another publication, it was illegally copied and reposted in violation of U.S. and international copyright and trademark legislation. The legal version of this story can be read at https://weekherald.com/2018/02/15/humana-hum-updates-fy18-earnings-guidance.html.
Humana Company Profile
Humana Inc is a health and well-being company. The Company's segments include Retail, Group and Specialty, Healthcare Services and Individual Commercial. The Retail segment consists of Medicare benefits, as well as individual commercial fully insured medical and specialty health insurance benefits, including dental, vision, and other supplemental health and financial protection products.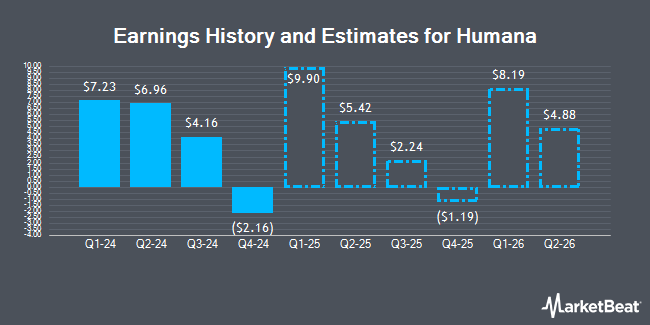 Receive News & Ratings for Humana Daily - Enter your email address below to receive a concise daily summary of the latest news and analysts' ratings for Humana and related companies with MarketBeat.com's FREE daily email newsletter.