First Bank (NASDAQ:FRBA) announced a quarterly dividend on Wednesday, January 31st, Wall Street Journal reports. Shareholders of record on Friday, February 9th will be given a dividend of 0.03 per share by the bank on Friday, February 23rd. This represents a $0.12 annualized dividend and a yield of 0.86%. The ex-dividend date of this dividend is Thursday, February 8th. This is an increase from First Bank's previous quarterly dividend of $0.02.
Shares of First Bank (NASDAQ:FRBA) traded up $0.10 during midday trading on Thursday, hitting $13.95. 9,900 shares of the stock were exchanged, compared to its average volume of 18,628. The firm has a market capitalization of $241.51, a PE ratio of 19.24 and a beta of 0.58. First Bank has a 52-week low of $10.60 and a 52-week high of $14.95.
First Bank (NASDAQ:FRBA) last released its quarterly earnings results on Tuesday, January 30th. The bank reported $0.18 earnings per share for the quarter, missing the consensus estimate of $0.19 by ($0.01). The company had revenue of $12.86 million for the quarter, compared to analyst estimates of $12.60 million. equities research analysts predict that First Bank will post 1.04 earnings per share for the current fiscal year.
A hedge fund recently bought a new stake in First Bank stock. State Street Corp purchased a new position in First Bank (NASDAQ:FRBA) in the second quarter, according to the company in its most recent Form 13F filing with the SEC. The fund purchased 36,536 shares of the bank's stock, valued at approximately $426,000. State Street Corp owned approximately 0.24% of First Bank at the end of the most recent reporting period. 37.93% of the stock is owned by institutional investors.
A number of research analysts have weighed in on the stock. Zacks Investment Research upgraded shares of First Bank from a "hold" rating to a "strong-buy" rating and set a $17.00 target price on the stock in a research note on Friday, January 12th. ValuEngine raised shares of First Bank from a "hold" rating to a "buy" rating in a research report on Sunday, December 31st. BidaskClub lowered shares of First Bank from a "hold" rating to a "sell" rating in a research report on Saturday, January 20th. Finally, Sandler O'Neill raised shares of First Bank from a "hold" rating to a "buy" rating and set a $15.00 price target on the stock in a research report on Wednesday, November 1st. One investment analyst has rated the stock with a sell rating, three have given a buy rating and one has assigned a strong buy rating to the stock. First Bank currently has an average rating of "Buy" and a consensus target price of $15.33.
TRADEMARK VIOLATION WARNING: "First Bank (FRBA) Increases Dividend to $0.03 Per Share" was published by Week Herald and is owned by of Week Herald. If you are viewing this piece of content on another publication, it was copied illegally and republished in violation of United States & international trademark and copyright law. The original version of this piece of content can be read at https://weekherald.com/2018/02/15/first-bank-frba-to-issue-quarterly-dividend-of-0-03.html.
About First Bank
First Bank is a commercial bank. The Company provides a range of lending, deposit and other financial products and services. It operates through Community Banking segment, which is engaged in providing a range of commercial and retail and related banking services. It offers a range of lending products to meet the needs of its customers located within its market areas, including commercial and industrial loans, commercial real estate loans (including owner-occupied, investor, and multi-family loans), residential real estate loans, and consumer and other loans.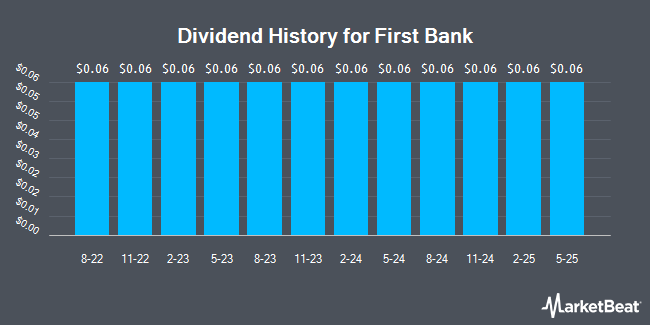 Receive News & Ratings for First Bank Daily - Enter your email address below to receive a concise daily summary of the latest news and analysts' ratings for First Bank and related companies with MarketBeat.com's FREE daily email newsletter.