ESCO Technologies (NYSE:ESE) posted its quarterly earnings results on Tuesday, February 6th. The scientific and technical instruments company reported $0.33 earnings per share (EPS) for the quarter, hitting analysts' consensus estimates of $0.33, Briefing.com reports. The firm had revenue of $173.50 million for the quarter, compared to analysts' expectations of $168.53 million. ESCO Technologies had a return on equity of 8.20% and a net margin of 10.89%. The company's revenue for the quarter was up 18.5% compared to the same quarter last year. During the same period in the prior year, the business earned $0.47 EPS. ESCO Technologies updated its FY18 guidance to $2.65-2.75 EPS.
Shares of ESCO Technologies (NYSE:ESE) traded up $0.15 during trading hours on Thursday, reaching $61.95. The company's stock had a trading volume of 20,674 shares, compared to its average volume of 116,926. The company has a current ratio of 2.10, a quick ratio of 1.36 and a debt-to-equity ratio of 0.34. ESCO Technologies has a fifty-two week low of $50.30 and a fifty-two week high of $66.80. The company has a market cap of $1,561.03, a PE ratio of 20.70 and a beta of 0.97.
The business also recently disclosed a quarterly dividend, which will be paid on Wednesday, April 18th. Shareholders of record on Tuesday, April 3rd will be paid a dividend of $0.08 per share. This represents a $0.32 annualized dividend and a yield of 0.52%. The ex-dividend date is Monday, April 2nd. ESCO Technologies's dividend payout ratio (DPR) is presently 10.70%.
ESE has been the topic of a number of research analyst reports. B. Riley set a $71.00 price target on ESCO Technologies and gave the stock a "buy" rating in a report on Wednesday, November 15th. Stephens set a $65.00 target price on ESCO Technologies and gave the stock an "equal weight" rating in a report on Wednesday, December 6th. Needham & Company LLC upgraded ESCO Technologies from a "hold" rating to a "buy" rating in a report on Tuesday, November 21st. Finally,
Zacks Investment Research
cut ESCO Technologies from a "hold" rating to a "sell" rating in a report on Wednesday, January 3rd. One equities research analyst has rated the stock with a hold rating and six have issued a buy rating to the company's stock. ESCO Technologies currently has a consensus rating of "Buy" and a consensus price target of $69.00.
ILLEGAL ACTIVITY NOTICE: "ESCO Technologies (NYSE:ESE) Announces Quarterly Earnings Results" was published by Week Herald and is owned by of Week Herald. If you are reading this story on another domain, it was copied illegally and republished in violation of United States & international trademark & copyright legislation. The legal version of this story can be accessed at https://weekherald.com/2018/02/15/esco-technologies-ese-releases-earnings-results-meets-expectations.html.
About ESCO Technologies
ESCO Technologies Inc (ESCO) is a producer of engineered products and systems sold to customers for utility, industrial, aerospace and commercial applications. The Company operates through four segments: Filtration/Fluid Flow (Filtration), RF Shielding and Test (Test), Utility Solutions Group (USG) and Technical Packaging.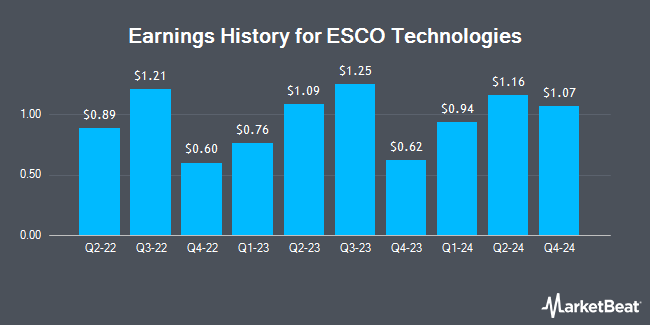 Receive News & Ratings for ESCO Technologies Daily - Enter your email address below to receive a concise daily summary of the latest news and analysts' ratings for ESCO Technologies and related companies with MarketBeat.com's FREE daily email newsletter.