Commerzbank Aktiengesellschaft FI cut its position in shares of Clorox Co (NYSE:CLX) by 22.3% during the fourth quarter, according to the company in its most recent disclosure with the Securities & Exchange Commission. The institutional investor owned 2,124 shares of the company's stock after selling 609 shares during the quarter. Commerzbank Aktiengesellschaft FI's holdings in Clorox were worth $316,000 at the end of the most recent quarter.
A number of other hedge funds have also recently added to or reduced their stakes in CLX. Phocas Financial Corp. bought a new position in Clorox in the 2nd quarter worth approximately $167,000. Dupont Capital Management Corp acquired a new position in shares of Clorox in the 3rd quarter valued at $199,000. Smith Moore & CO. acquired a new position in shares of Clorox in the 3rd quarter valued at $204,000. Private Asset Management Inc. acquired a new position in shares of Clorox in the 4th quarter valued at $208,000. Finally, WFG Advisors LP grew its holdings in shares of Clorox by 7.2% in the 2nd quarter. WFG Advisors LP now owns 1,571 shares of the company's stock valued at $209,000 after buying an additional 106 shares during the period. 73.42% of the stock is currently owned by institutional investors and hedge funds.
Several equities analysts have recently issued reports on CLX shares. Zacks Investment Research raised shares of Clorox from a "sell" rating to a "hold" rating in a report on Monday, November 6th. Morgan Stanley cut their price objective on shares of Clorox from $138.00 to $128.00 and set an "equal weight" rating on the stock in a research report on Thursday, November 2nd. Consumer Edge raised shares of Clorox from a "neutral" rating to an "outperform" rating in a research report on Friday, November 10th. Jefferies Group reaffirmed a "hold" rating and issued a $132.00 target price on shares of Clorox in a report on Wednesday, November 1st. Finally, Argus cut shares of Clorox from a "buy" rating to a "hold" rating and dropped their target price for the company from $150.40 to $127.81 in a report on Thursday, February 8th. Two equities research analysts have rated the stock with a sell rating, ten have assigned a hold rating and four have given a buy rating to the stock. The company presently has an average rating of "Hold" and an average target price of $132.46.
In other Clorox news, SVP Michael R. Costello sold 10,574 shares of the firm's stock in a transaction on Tuesday, November 28th. The shares were sold at an average price of $136.01, for a total value of $1,438,169.74. Following the completion of the sale, the senior vice president now directly owns 34,867 shares in the company, valued at $4,742,260.67. The transaction was disclosed in a filing with the Securities & Exchange Commission, which is available at
the SEC website
. Company insiders own 1.00% of the company's stock.
Clorox Co (NYSE:CLX) traded up $0.88 during mid-day trading on Thursday, hitting $129.68. 352,159 shares of the stock traded hands, compared to its average volume of 1,210,823. The company has a market capitalization of $16,632.30, a P/E ratio of 21.26, a P/E/G ratio of 2.41 and a beta of 0.31. Clorox Co has a 12-month low of $124.09 and a 12-month high of $150.40. The company has a debt-to-equity ratio of 2.35, a current ratio of 1.22 and a quick ratio of 0.86.
Clorox (NYSE:CLX) last released its quarterly earnings results on Friday, February 2nd. The company reported $1.23 earnings per share (EPS) for the quarter, beating the Thomson Reuters' consensus estimate of $1.22 by $0.01. The firm had revenue of $1.42 billion during the quarter, compared to the consensus estimate of $1.43 billion. Clorox had a net margin of 13.21% and a return on equity of 126.70%. The company's revenue for the quarter was up .7% on a year-over-year basis. During the same quarter last year, the firm earned $1.14 earnings per share. sell-side analysts expect that Clorox Co will post 6.23 earnings per share for the current year.
ILLEGAL ACTIVITY WARNING: "Commerzbank Aktiengesellschaft FI Lowers Holdings in Clorox Co (NYSE:CLX)" was originally reported by Week Herald and is the property of of Week Herald. If you are accessing this news story on another website, it was illegally copied and republished in violation of US & international copyright & trademark law. The legal version of this news story can be read at https://weekherald.com/2018/02/15/commerzbank-aktiengesellschaft-fi-has-316000-position-in-clorox-co-clx.html.
Clorox Profile
The Clorox Company is a manufacturer and marketer of consumer and professional products. The Company sells its products primarily through mass retail outlets, e-commerce channels, wholesale distributors and medical supply distributors. The Company operates through four segments: Cleaning, Household, Lifestyle and International.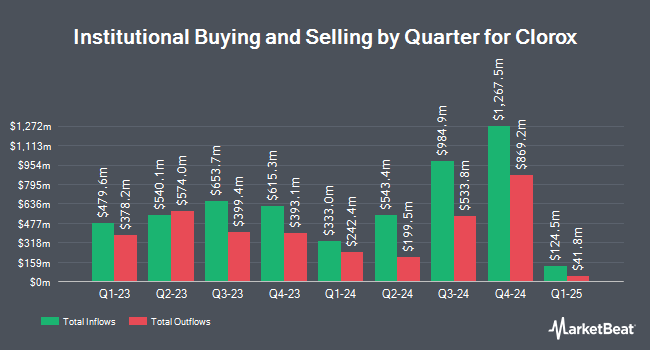 Receive News & Ratings for Clorox Daily - Enter your email address below to receive a concise daily summary of the latest news and analysts' ratings for Clorox and related companies with MarketBeat.com's FREE daily email newsletter.