CACI International (NYSE:CACI) issued an update on its FY18 earnings guidance on Wednesday morning. The company provided earnings per share (EPS) guidance of $7.00-7.23 for the period, compared to the Thomson Reuters consensus estimate of $6.98. The company issued revenue guidance of $4.35-4.5 billion, compared to the consensus revenue estimate of $4.45 billion.
Shares of CACI International (NYSE CACI) traded down $1.00 during trading on Thursday, hitting $149.75. The stock had a trading volume of 29,014 shares, compared to its average volume of 151,104. CACI International has a fifty-two week low of $112.10 and a fifty-two week high of $159.40. The stock has a market capitalization of $3,710.00, a P/E ratio of 14.10, a price-to-earnings-growth ratio of 1.34 and a beta of 1.63. The company has a quick ratio of 1.55, a current ratio of 1.55 and a debt-to-equity ratio of 0.54.
CACI International (NYSE:CACI) last issued its earnings results on Wednesday, January 31st. The information technology services provider reported $2.00 earnings per share (EPS) for the quarter, missing the Thomson Reuters' consensus estimate of $2.29 by ($0.29). CACI International had a return on equity of 9.64% and a net margin of 6.13%. The firm had revenue of $1.09 billion during the quarter, compared to the consensus estimate of $1.08 billion. During the same period last year, the firm posted $1.69 earnings per share. The company's revenue for the quarter was up 2.9% compared to the same quarter last year. analysts forecast that CACI International will post 11.14 earnings per share for the current year.
CACI has been the topic of a number of analyst reports.
Zacks Investment Research
raised CACI International from a hold rating to a strong-buy rating and set a $163.00 target price on the stock in a research note on Wednesday, October 18th. SunTrust Banks reiterated a hold rating and issued a $134.00 price target on shares of CACI International in a report on Friday, October 20th. Jefferies Group restated a buy rating and set a $154.00 target price on shares of CACI International in a report on Tuesday, October 24th. Wells Fargo & Co upgraded CACI International from a market perform rating to an outperform rating and set a $158.00 target price for the company in a report on Wednesday, October 25th. Finally, Noble Financial upgraded CACI International from a hold rating to a buy rating in a report on Friday, November 3rd. One equities research analyst has rated the stock with a sell rating, five have assigned a hold rating and ten have given a buy rating to the company. The stock currently has a consensus rating of Buy and an average target price of $152.55.
In related news, CFO Thomas A. Mutryn sold 4,743 shares of the firm's stock in a transaction dated Thursday, February 1st. The shares were sold at an average price of $150.00, for a total value of $711,450.00. Following the transaction, the chief financial officer now directly owns 37,555 shares of the company's stock, valued at approximately $5,633,250. The sale was disclosed in a filing with the Securities & Exchange Commission, which is available at this link. Also, Director Gregory G. Johnson sold 300 shares of the firm's stock in a transaction that occurred on Monday, February 12th. The stock was sold at an average price of $149.97, for a total transaction of $44,991.00. Following the completion of the transaction, the director now directly owns 4,769 shares in the company, valued at $715,206.93. The disclosure for this sale can be found here. Insiders have sold a total of 16,294 shares of company stock worth $2,388,412 over the last ninety days. 1.44% of the stock is owned by insiders.
COPYRIGHT VIOLATION NOTICE: "CACI International (CACI) Updates FY18 Earnings Guidance" was reported by Week Herald and is owned by of Week Herald. If you are viewing this piece of content on another publication, it was stolen and republished in violation of international trademark & copyright legislation. The legal version of this piece of content can be read at https://weekherald.com/2018/02/15/caci-international-caci-issues-fy18-earnings-guidance.html.
CACI International Company Profile
CACI International Inc is a simulation technology company. The Company provides information solutions and services. The Company operates through two segments: domestic operations and international operations. It serves clients in the United States federal government and commercial markets, primarily throughout North America and internationally on behalf of the United States customers, as well as in the United Kingdom and the Netherlands.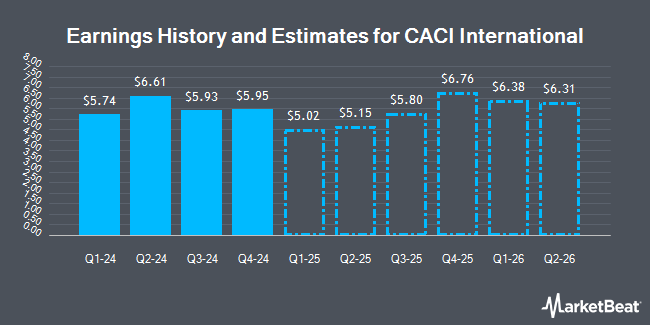 Receive News & Ratings for CACI International Daily - Enter your email address below to receive a concise daily summary of the latest news and analysts' ratings for CACI International and related companies with MarketBeat.com's FREE daily email newsletter.