BIO-TECHNE Corp (NASDAQ:TECH) announced a quarterly dividend on Wednesday, February 7th, Wall Street Journal reports. Shareholders of record on Friday, February 16th will be paid a dividend of 0.32 per share by the biotechnology company on Friday, March 2nd. This represents a $1.28 dividend on an annualized basis and a dividend yield of 0.91%. The ex-dividend date is Thursday, February 15th.
BIO-TECHNE (TECH) traded up $4.06 during midday trading on Thursday, hitting $141.06. The company had a trading volume of 187,500 shares, compared to its average volume of 183,536. BIO-TECHNE has a fifty-two week low of $98.22 and a fifty-two week high of $143.64. The company has a quick ratio of 2.49, a current ratio of 3.10 and a debt-to-equity ratio of 0.36. The firm has a market cap of $5,133.94, a PE ratio of 46.25, a PEG ratio of 2.51 and a beta of 0.78.
BIO-TECHNE (NASDAQ:TECH) last issued its quarterly earnings results on Tuesday, February 6th. The biotechnology company reported $1.02 earnings per share (EPS) for the quarter, beating the consensus estimate of $0.92 by $0.10. BIO-TECHNE had a return on equity of 14.39% and a net margin of 19.17%. The firm had revenue of $154.15 million for the quarter, compared to analyst estimates of $145.93 million. During the same period in the previous year, the company posted $0.81 earnings per share. The company's quarterly revenue was up 16.9% compared to the same quarter last year. sell-side analysts predict that BIO-TECHNE will post 3.99 earnings per share for the current fiscal year.
Several equities research analysts have recently weighed in on TECH shares.
Zacks Investment Research
upgraded BIO-TECHNE from a "hold" rating to a "buy" rating and set a $158.00 price objective on the stock in a research note on Saturday, January 20th. Citigroup reiterated a "buy" rating and issued a $115.00 price objective (down from $125.00) on shares of BIO-TECHNE in a research note on Tuesday, October 24th. Leerink Swann restated a "buy" rating on shares of BIO-TECHNE in a research report on Tuesday, December 5th. Deutsche Bank set a $145.00 price target on BIO-TECHNE and gave the stock a "buy" rating in a research report on Tuesday, October 31st. Finally, Robert W. Baird restated a "buy" rating and set a $154.00 price target on shares of BIO-TECHNE in a research report on Thursday, January 18th. Two analysts have rated the stock with a hold rating and seven have issued a buy rating to the company. The company currently has an average rating of "Buy" and a consensus target price of $145.00.
TRADEMARK VIOLATION WARNING: "BIO-TECHNE Corp Announces Quarterly Dividend of $0.32 (TECH)" was originally published by Week Herald and is the sole property of of Week Herald. If you are accessing this piece on another publication, it was illegally stolen and reposted in violation of international copyright legislation. The original version of this piece can be accessed at https://weekherald.com/2018/02/15/bio-techne-corp-declares-quarterly-dividend-of-0-32-tech.html.
BIO-TECHNE Company Profile
Bio-Techne Corporation develops, manufactures and sells biotechnology reagents and instruments for the research and clinical diagnostic markets. The Company operates through three segments: Biotechnology, Clinical Controls and Protein Platforms. The Biotechnology segment develops, manufactures and sells biotechnology research and diagnostic products, such as cytokines, growth factors, immunoassays, antibodies and related reagents, across the world.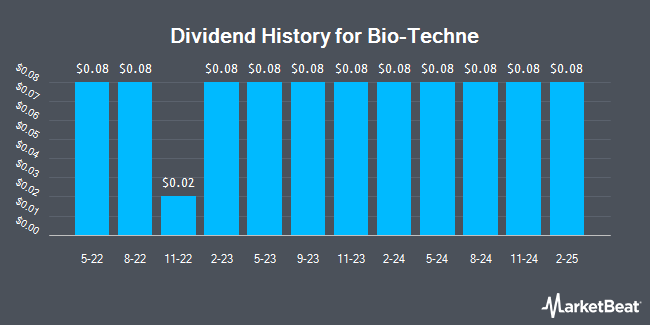 Receive News & Ratings for BIO-TECHNE Daily - Enter your email address below to receive a concise daily summary of the latest news and analysts' ratings for BIO-TECHNE and related companies with MarketBeat.com's FREE daily email newsletter.