AvalonBay Communities (NYSE:AVB) issued an update on its first quarter earnings guidance on Wednesday morning. The company provided EPS guidance of $2.14 to $2.20 for the period, compared to the Thomson Reuters consensus EPS estimate of $2.22. AvalonBay Communities also updated its FY17 guidance to $8.73 to $9.13 EPS.
Shares of AvalonBay Communities (NYSE:AVB) traded up $1.74 on Thursday, hitting $160.66. The stock had a trading volume of 174,231 shares, compared to its average volume of 834,918. The company has a market cap of $22,011.21, a P/E ratio of 24.99, a PEG ratio of 2.45 and a beta of 0.34. The company has a current ratio of 0.10, a quick ratio of 0.10 and a debt-to-equity ratio of 0.71. AvalonBay Communities has a 12-month low of $154.82 and a 12-month high of $199.52.
AvalonBay Communities (NYSE:AVB) last issued its quarterly earnings results on Wednesday, January 31st. The real estate investment trust reported $2.25 earnings per share (EPS) for the quarter, beating the Zacks' consensus estimate of $1.22 by $1.03. The firm had revenue of $555.29 million during the quarter, compared to the consensus estimate of $554.20 million. AvalonBay Communities had a return on equity of 8.57% and a net margin of 40.62%. The company's revenue for the quarter was up 7.1% on a year-over-year basis. During the same quarter last year, the company posted $2.12 EPS. equities research analysts expect that AvalonBay Communities will post 9 EPS for the current year.
The company also recently disclosed a quarterly dividend, which will be paid on Monday, April 16th. Investors of record on Thursday, March 29th will be issued a dividend of $1.47 per share. This represents a $5.88 dividend on an annualized basis and a dividend yield of 3.66%. This is a boost from AvalonBay Communities's previous quarterly dividend of $1.42. The ex-dividend date of this dividend is Wednesday, March 28th. AvalonBay Communities's dividend payout ratio (DPR) is currently 89.31%.
A number of equities analysts recently weighed in on the company. UBS Group raised AvalonBay Communities from a neutral rating to a buy rating and raised their price objective for the company from $190.00 to $206.00 in a report on Thursday, November 9th. BMO Capital Markets reaffirmed a hold rating and issued a $190.00 price target on shares of AvalonBay Communities in a research note on Monday, November 27th. JPMorgan Chase & Co. cut AvalonBay Communities from an overweight rating to a neutral rating and set a $211.00 price target on the stock. in a research note on Friday, December 15th. Royal Bank of Canada decreased their price target on AvalonBay Communities from $206.00 to $200.00 and set an outperform rating on the stock in a research note on Monday, November 6th. Finally, Mizuho reaffirmed a buy rating and issued a $220.00 price target on shares of AvalonBay Communities in a research note on Monday, November 6th. Two investment analysts have rated the stock with a sell rating, eleven have issued a hold rating and ten have issued a buy rating to the company's stock. AvalonBay Communities presently has an average rating of Hold and a consensus target price of $194.82.
In other AvalonBay Communities news, insider Leo S. Horey III sold 2,000 shares of the company's stock in a transaction dated Tuesday, December 12th. The stock was sold at an average price of $182.75, for a total value of $365,500.00. The sale was disclosed in a legal filing with the Securities & Exchange Commission, which is available at this hyperlink. Also, CEO Timothy J. Naughton sold 25,160 shares of the company's stock in a transaction dated Tuesday, December 12th. The stock was sold at an average price of $183.84, for a total value of $4,625,414.40. The disclosure for this sale can be found here. In the last quarter, insiders have sold 30,660 shares of company stock valued at $5,628,669. 0.46% of the stock is owned by company insiders.
WARNING: "AvalonBay Communities (NYSE:AVB) Issues Q1 Earnings Guidance" was published by Week Herald and is owned by of Week Herald. If you are viewing this news story on another domain, it was illegally stolen and republished in violation of US and international copyright & trademark laws. The original version of this news story can be accessed at https://weekherald.com/2018/02/15/avalonbay-communities-avb-releases-q1-earnings-guidance.html.
AvalonBay Communities Company Profile
AvalonBay Communities, Inc is a real estate investment trust (REIT). The Company is focused on the development, redevelopment, acquisition, ownership and operation of multifamily communities primarily in New England, the New York/New Jersey metro area, the Mid-Atlantic, the Pacific Northwest, and Northern and Southern California.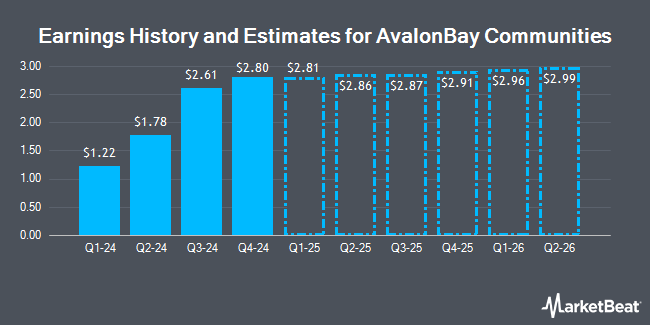 Receive News & Ratings for AvalonBay Communities Daily - Enter your email address below to receive a concise daily summary of the latest news and analysts' ratings for AvalonBay Communities and related companies with MarketBeat.com's FREE daily email newsletter.