Arrow Financial (NASDAQ:AROW) posted its quarterly earnings data on Tuesday, January 30th. The financial services provider reported $0.50 earnings per share (EPS) for the quarter, missing the Thomson Reuters' consensus estimate of $0.56 by ($0.06), Bloomberg Earnings reports. Arrow Financial had a net margin of 26.11% and a return on equity of 11.75%. The company had revenue of $27.07 million for the quarter.
Shares of Arrow Financial (NASDAQ:AROW) traded up $1.15 during mid-day trading on Thursday, hitting $33.30. 20,200 shares of the company were exchanged, compared to its average volume of 14,721. The company has a quick ratio of 0.83, a current ratio of 0.83 and a debt-to-equity ratio of 0.44. The firm has a market capitalization of $447.85, a PE ratio of 15.86 and a beta of 0.62. Arrow Financial has a 52-week low of $30.70 and a 52-week high of $38.60.
The firm also recently disclosed a quarterly dividend, which will be paid on Thursday, March 15th. Investors of record on Thursday, March 1st will be issued a $0.25 dividend. This represents a $1.00 dividend on an annualized basis and a dividend yield of 3.00%. The ex-dividend date of this dividend is Wednesday, February 28th. Arrow Financial's dividend payout ratio (DPR) is currently 47.61%.
AROW has been the subject of several recent analyst reports. Sandler O'Neill set a $37.00 price objective on shares of Arrow Financial and gave the stock a "hold" rating in a research report on Wednesday, January 3rd. BidaskClub cut shares of Arrow Financial from a "hold" rating to a "sell" rating in a research report on Wednesday, January 3rd.
In related news, Chairman Thomas L. Hoy sold 1,300 shares of Arrow Financial stock in a transaction that occurred on Friday, November 17th. The shares were sold at an average price of $35.16, for a total value of $45,708.00. The sale was disclosed in a filing with the Securities & Exchange Commission, which is accessible through this link. Insiders sold 2,300 shares of company stock valued at $80,433 in the last 90 days. Company insiders own 4.63% of the company's stock.
Arrow Financial declared that its Board of Directors has authorized a share repurchase plan on Friday, October 27th that allows the company to repurchase $5.00 million in shares. This repurchase authorization allows the financial services provider to buy shares of its stock through open market purchases. Stock repurchase plans are typically a sign that the company's board believes its stock is undervalued.
ILLEGAL ACTIVITY WARNING: "Arrow Financial (AROW) Releases Quarterly Earnings Results, Misses Expectations By $0.06 EPS" was first posted by Week Herald and is the sole property of of Week Herald. If you are viewing this piece of content on another website, it was illegally copied and reposted in violation of U.S. and international trademark and copyright law. The original version of this piece of content can be viewed at https://weekherald.com/2018/02/15/arrow-financial-arow-releases-quarterly-earnings-results-misses-estimates-by-0-06-eps.html.
Arrow Financial Company Profile
Arrow Financial Corporation (Arrow) is a bank holding company. The Company's banking subsidiaries are Glens Falls National Bank and Trust Company (Glens Falls National) and Saratoga National Bank and Trust Company (Saratoga National). It operates in community banking industry segment. The Company's business consists primarily of the ownership, supervision and control of its two banks.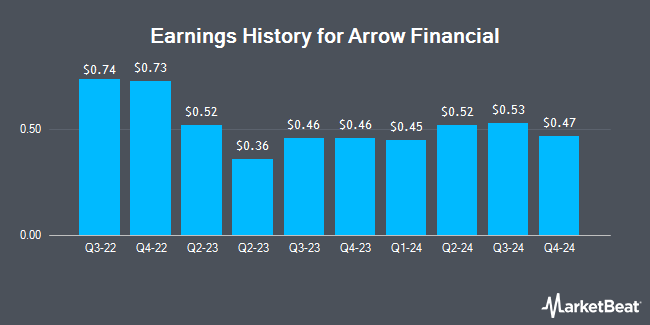 Receive News & Ratings for Arrow Financial Daily - Enter your email address below to receive a concise daily summary of the latest news and analysts' ratings for Arrow Financial and related companies with MarketBeat.com's FREE daily email newsletter.