Snc-Lavalin Group (TSE:SNC) had its price objective upped by CIBC from C$65.00 to C$68.00 in a report issued on Tuesday, January 16th. They currently have an outperform rating on the stock.
A number of other brokerages also recently issued reports on SNC. Royal Bank of Canada initiated coverage on Snc-Lavalin Group in a research note on Monday, October 23rd. They set an outperform rating and a C$67.00 price objective for the company. Scotiabank reissued an outperform rating and issued a C$70.00 price target on shares of Snc-Lavalin Group in a report on Tuesday, October 31st. BMO Capital Markets boosted their price target on Snc-Lavalin Group from C$67.00 to C$68.00 in a report on Friday, November 3rd. National Bank Financial upped their price objective on Snc-Lavalin Group from C$69.00 to C$73.50 and gave the stock an outperform rating in a report on Wednesday, January 10th. Finally, Canaccord Genuity upped their price objective on Snc-Lavalin Group from C$76.00 to C$77.00 in a report on Tuesday, October 31st. One analyst has rated the stock with a hold rating, eight have given a buy rating and one has issued a strong buy rating to the company's stock. The stock has a consensus rating of Buy and a consensus price target of C$71.33.
Shares of Snc-Lavalin Group (SNC) traded up C$0.42 during trading hours on Tuesday, hitting C$52.81. The company had a trading volume of 501,204 shares, compared to its average volume of 336,628. The company has a market cap of $9,270.00, a P/E ratio of 25.15 and a beta of 0.56. Snc-Lavalin Group has a 52 week low of C$50.28 and a 52 week high of C$59.38.
In other Snc-Lavalin Group news, Director Benita Marie Warmbold acquired 3,000 shares of the business's stock in a transaction on Tuesday, November 14th. The shares were bought at an average price of C$56.79 per share, with a total value of C$170,370.00.
ILLEGAL ACTIVITY NOTICE: This piece was originally posted by Week Herald and is owned by of Week Herald. If you are reading this piece on another publication, it was copied illegally and republished in violation of US & international copyright and trademark laws. The legal version of this piece can be read at https://weekherald.com/2018/02/11/snc-lavalin-group-snc-pt-raised-to-c68-00-at-cibc.html.
About Snc-Lavalin Group
SNC-Lavalin Group Inc is a Canada-based engineering and construction company. The Company's segments include Mining & Metallurgy, which provides solutions for a range of projects in the aluminum, gold, copper, iron ore, nickel, fertilizers and sulfur product sectors, among others; Oil & Gas, which includes projects in the upstream, midstream and downstream (supporting infrastructure) sectors for oil and gas and resources companies, supporting these clients operating across the asset lifecycle from front end evaluation through decommissioning (capital expenditures and operational expenditures); Power, which includes projects and services in hydro, nuclear and thermal power generation, renewable power generation, energy from waste, and electrical transmission and distribution systems; Infrastructure, which is divided into the Infrastructure & Construction and Operations & Maintenance sub-segments, and Capital segment is the investment and asset management arm of the Company.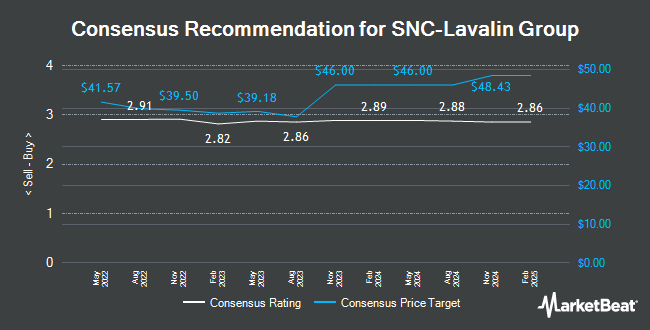 Receive News & Ratings for Snc-Lavalin Group Daily - Enter your email address below to receive a concise daily summary of the latest news and analysts' ratings for Snc-Lavalin Group and related companies with MarketBeat.com's FREE daily email newsletter.