Shares of Open Text Corp (TSE:OTEX) (NASDAQ:OTEX) have earned an average recommendation of "Buy" from the eight analysts that are covering the firm, Marketbeat.com reports. Five investment analysts have rated the stock with a buy recommendation. The average 1 year price target among brokerages that have issued ratings on the stock in the last year is C$41.83.
Separately, Macquarie lowered their price objective on Open Text from C$43.00 to C$40.00 in a research report on Thursday, November 23rd.
Open Text (TSE OTEX) traded up C$0.30 during trading hours on Friday, hitting C$42.29. The stock had a trading volume of 504,170 shares, compared to its average volume of 606,144. The firm has a market cap of $11,310.00, a PE ratio of 58.74 and a beta of 0.07. Open Text has a twelve month low of C$38.65 and a twelve month high of C$48.28.
The company also recently announced a quarterly dividend, which was paid on Wednesday, December 20th. Investors of record on Friday, December 1st were given a $0.17 dividend. The ex-dividend date of this dividend was Thursday, November 30th. This is a boost from Open Text's previous quarterly dividend of $0.13. This represents a $0.68 dividend on an annualized basis and a dividend yield of 1.61%. Open Text's dividend payout ratio is 68.61%.
COPYRIGHT VIOLATION WARNING: This news story was first posted by Week Herald and is the property of of Week Herald. If you are accessing this news story on another publication, it was illegally copied and republished in violation of United States & international copyright & trademark legislation. The legal version of this news story can be viewed at https://weekherald.com/2018/01/12/open-text-corp-otex-given-consensus-recommendation-of-buy-by-analysts.html.
Open Text Company Profile
Open Text Corporation provides a suite of software products and services that assist organizations in finding, utilizing, and sharing business information from various devices. The company offers content solutions that provide content and records management, archiving, and email management and capture solutions, as well as Core, a software as a service based multi-tenant cloud solution; business process management for analyzing, automating, monitoring, and optimizing structured business processes; and customer experience management products, which offer Web content management, digital asset management, customer communications management, social software, and portal.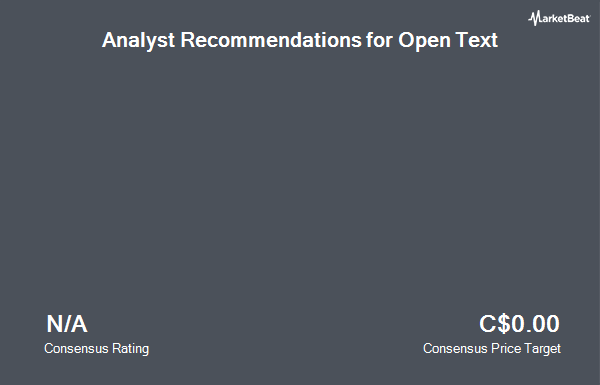 Receive News & Ratings for Open Text Daily - Enter your email address below to receive a concise daily summary of the latest news and analysts' ratings for Open Text and related companies with MarketBeat.com's FREE daily email newsletter.