Shares of RPC Group Plc (LON:RPC) have received an average recommendation of "Buy" from the eight research firms that are presently covering the company, Marketbeat reports. Two investment analysts have rated the stock with a hold rating and six have assigned a buy rating to the company. The average 12 month price target among analysts that have covered the stock in the last year is GBX 1,175.71 ($15.82).
A number of research firms have recently commented on RPC. J P Morgan Chase & Co restated an "overweight" rating and issued a GBX 1,250 ($16.82) price objective on shares of RPC Group in a research report on Thursday, November 30th. Credit Suisse Group restated an "outperform" rating and set a GBX 1,180 ($15.88) target price on shares of RPC Group in a report on Wednesday, November 29th. Peel Hunt boosted their target price on shares of RPC Group from GBX 1,135 ($15.28) to GBX 1,250 ($16.82) and gave the company a "buy" rating in a report on Tuesday, October 31st. Numis Securities restated an "add" rating and set a GBX 1,130 ($15.21) target price on shares of RPC Group in a report on Thursday, September 28th. Finally, restated an "add" rating and set a GBX 1,130 ($15.21) target price on shares of RPC Group in a report on Tuesday, November 14th.
RPC Group (LON:RPC) traded down GBX 4.50 ($0.06) during mid-day trading on Thursday, hitting GBX 886 ($11.92). 1,490,000 shares of the stock were exchanged, compared to its average volume of 1,930,000. RPC Group has a one year low of GBX 714.50 ($9.62) and a one year high of GBX 1,032 ($13.89).
The company also recently declared a dividend, which will be paid on Friday, January 26th. Investors of record on Thursday, December 28th will be paid a GBX 7.80 ($0.10) dividend. This represents a yield of 0.86%. The ex-dividend date is Thursday, December 28th.
WARNING: "RPC Group Plc (RPC) Receives GBX 1,175.71 Consensus PT from Brokerages" was first posted by Week Herald and is the sole property of of Week Herald. If you are reading this news story on another website, it was illegally stolen and reposted in violation of US and international copyright laws. The legal version of this news story can be accessed at https://weekherald.com/2018/01/02/rpc-group-plc-rpc-receives-gbx-1175-71-consensus-pt-from-brokerages.html.
About RPC Group
RPC Group Plc is a plastic products design and engineering company. The Company offers a range of consumer products and technical components for the packaging and non-packaging markets. The Company's business is organized into two segments: Packaging and Non-packaging. The Packaging business serves the food, nonfood (including (general industrial, agrochemical and automotive), personal care (mass personal care, cosmetics and beauty), beverage and healthcare ((pharmaceuticals) markets.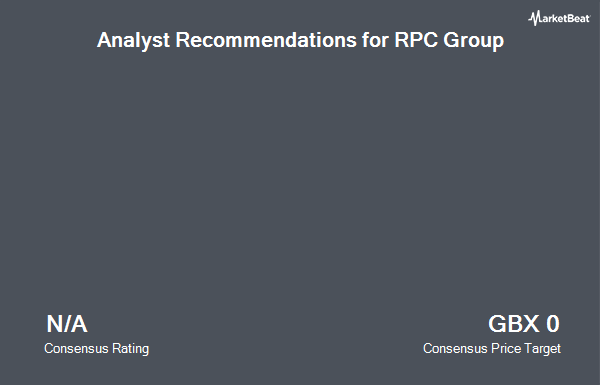 Receive News & Ratings for RPC Group Plc Daily - Enter your email address below to receive a concise daily summary of the latest news and analysts' ratings for RPC Group Plc and related companies with MarketBeat.com's FREE daily email newsletter.