AngioDynamics (NASDAQ:ANGO) will release its earnings data before the market opens on Thursday, January 4th. Analysts expect AngioDynamics to post earnings of $0.16 per share for the quarter. AngioDynamics has set its FY18 guidance at $0.64-0.68 EPS.
AngioDynamics (NASDAQ:ANGO) last announced its quarterly earnings results on Thursday, September 28th. The medical instruments supplier reported $0.12 EPS for the quarter, missing analysts' consensus estimates of $0.16 by ($0.04). The company had revenue of $85.40 million during the quarter, compared to the consensus estimate of $86.12 million. AngioDynamics had a net margin of 1.64% and a return on equity of 4.83%. The business's revenue was down 3.1% compared to the same quarter last year. During the same period last year, the company earned $0.17 earnings per share. On average, analysts expect AngioDynamics to post $1 EPS for the current fiscal year and $1 EPS for the next fiscal year.
Shares of AngioDynamics (NASDAQ:ANGO) opened at $16.62 on Thursday. The company has a debt-to-equity ratio of 0.17, a current ratio of 2.34 and a quick ratio of 1.48. The company has a market capitalization of $611.32, a PE ratio of 166.20, a PEG ratio of 1.71 and a beta of 1.04. AngioDynamics has a 52 week low of $14.80 and a 52 week high of $18.85.
A number of brokerages have recently commented on ANGO. Canaccord Genuity reaffirmed a "hold" rating and issued a $17.00 price target on shares of AngioDynamics in a research note on Sunday, October 8th.
Zacks Investment Research
raised AngioDynamics from a "hold" rating to a "buy" rating and set a $19.00 price target for the company in a research note on Tuesday, October 3rd. Finally, KeyCorp reaffirmed a "hold" rating on shares of AngioDynamics in a research note on Friday, September 29th. Four research analysts have rated the stock with a hold rating and three have assigned a buy rating to the company. The stock has an average rating of "Hold" and a consensus price target of $18.60.
WARNING: "AngioDynamics (ANGO) Set to Announce Earnings on Thursday" was first reported by Week Herald and is owned by of Week Herald. If you are accessing this article on another website, it was copied illegally and reposted in violation of United States and international copyright and trademark law. The original version of this article can be viewed at https://weekherald.com/2017/12/28/angiodynamics-ango-set-to-announce-earnings-on-thursday.html.
About AngioDynamics
AngioDynamics, Inc designs, manufactures and sells a range of medical, surgical and diagnostic devices used by professional healthcare providers for vascular access, for the treatment of peripheral vascular disease and for use in oncology and surgical settings. The Company's devices are used in minimally invasive, image-guided procedures.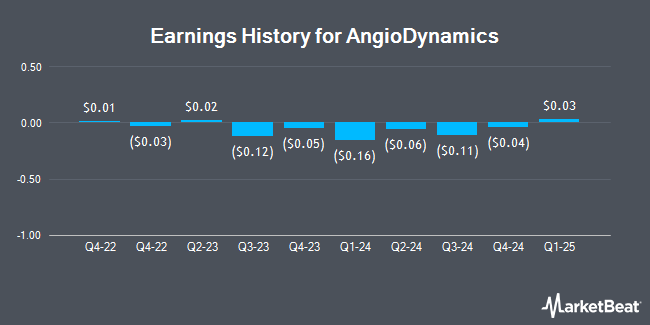 Receive News & Ratings for AngioDynamics Daily - Enter your email address below to receive a concise daily summary of the latest news and analysts' ratings for AngioDynamics and related companies with MarketBeat.com's FREE daily email newsletter.