Shares of Ibstock plc (LON:IBST) have earned a consensus recommendation of "Buy" from the ten research firms that are presently covering the stock, Marketbeat Ratings reports. Two analysts have rated the stock with a hold recommendation and eight have given a buy recommendation to the company. The average 12 month price target among analysts that have covered the stock in the last year is GBX 269.67 ($3.61).
A number of research firms recently issued reports on IBST. Barclays downgraded shares of Ibstock to an "equal weight" rating and set a GBX 245 ($3.28) price target on the stock. in a research note on Wednesday, September 20th. Jefferies Group reaffirmed a "buy" rating and set a GBX 300 ($4.01) price target on shares of Ibstock in a research note on Tuesday, September 19th. Deutsche Bank decreased their price target on shares of Ibstock from GBX 299 ($4.00) to GBX 292 ($3.90) and set a "buy" rating on the stock in a research note on Monday, November 20th. Finally, Peel Hunt raised shares of Ibstock to a "buy" rating and upped their price target for the company from GBX 265 ($3.54) to GBX 285 ($3.81) in a research note on Wednesday, December 6th.
Shares of Ibstock (IBST) opened at GBX 265 ($3.54) on Tuesday. The stock has a market cap of $1,080.00 and a price-to-earnings ratio of 1,204.55. Ibstock has a 12 month low of GBX 173.90 ($2.33) and a 12 month high of GBX 265 ($3.54).
TRADEMARK VIOLATION WARNING: "Ibstock plc (IBST) Receives Average Rating of "Buy" from Analysts" was originally posted by Week Herald and is owned by of Week Herald. If you are viewing this story on another publication, it was stolen and republished in violation of U.S. & international trademark and copyright law. The correct version of this story can be viewed at https://weekherald.com/2017/12/26/ibstock-plc-ibst-receives-average-rating-of-buy-from-analysts.html.
About Ibstock
Ibstock plc is a United Kingdom-based company, which is engaged in manufacturing of clay bricks and concrete products. The Company's segments are the UK and the US. The Company's principal products include clay bricks, brick components, concrete stone masonry substitutes, concrete fencing, pre-stressed concrete products and concrete rail products.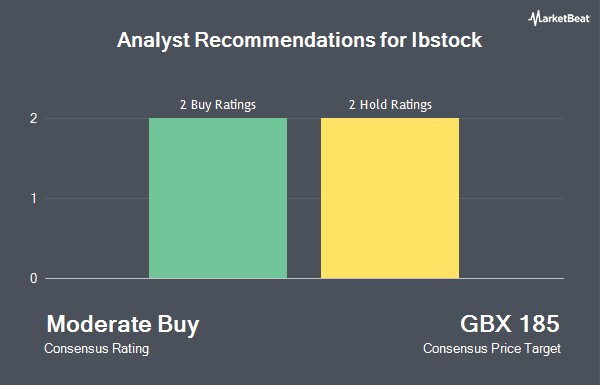 Receive News & Ratings for Ibstock Daily - Enter your email address below to receive a concise daily summary of the latest news and analysts' ratings for Ibstock and related companies with MarketBeat.com's FREE daily email newsletter.