Sabine Royalty Trust (NYSE:SBR) declared a monthly dividend on Tuesday, December 5th, NASDAQ reports. Stockholders of record on Friday, December 15th will be paid a dividend of 0.199 per share by the energy company on Friday, December 29th. This represents a $2.39 dividend on an annualized basis and a dividend yield of 5.51%. The ex-dividend date of this dividend is Thursday, December 14th. This is a boost from Sabine Royalty Trust's previous monthly dividend of $0.14.
Sabine Royalty Trust has decreased its dividend payment by an average of 21.0% annually over the last three years.
Shares of Sabine Royalty Trust (NYSE SBR) traded down $0.65 during trading on Wednesday, hitting $43.35. 13,000 shares of the stock were exchanged, compared to its average volume of 20,503. Sabine Royalty Trust has a twelve month low of $33.50 and a twelve month high of $45.08. The firm has a market capitalization of $641.49, a price-to-earnings ratio of 19.38 and a beta of 0.23.
An institutional investor recently raised its position in Sabine Royalty Trust stock. State Street Corp lifted its position in shares of Sabine Royalty Trust (NYSE:SBR) by 1.4% during the second quarter, according to the company in its most recent Form 13F filing with the Securities & Exchange Commission. The firm owned 10,240 shares of the energy company's stock after acquiring an additional 140 shares during the quarter. State Street Corp owned 0.07% of Sabine Royalty Trust worth $397,000 at the end of the most recent quarter. Hedge funds and other institutional investors own 8.81% of the company's stock.
ILLEGAL ACTIVITY WARNING: This news story was originally posted by Week Herald and is owned by of Week Herald. If you are accessing this news story on another website, it was stolen and republished in violation of US and international copyright and trademark legislation. The legal version of this news story can be accessed at https://weekherald.com/2017/12/13/sabine-royalty-trust-sbr-to-go-ex-dividend-on-december-14th.html.
Sabine Royalty Trust Company Profile
Sabine Royalty Trust (the Trust) is an express trust. The Royalty Properties are the assets of the Trust. The Royalty Properties constitute interests in gross production of oil, gas and other minerals free of the costs of production. Southwest Bank acts as trustee of the Trust. The Royalty Properties consist of royalty and mineral interests, including landowner's royalties, overriding royalty interests, minerals (other than executive rights, bonuses and delay rentals), production payments and any other similar, non-participatory interest, in certain producing and proved undeveloped oil and gas properties located in Florida, Louisiana, Mississippi, New Mexico, Oklahoma and Texas.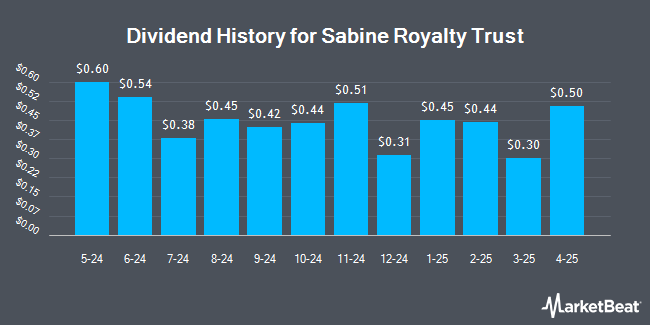 Receive News & Ratings for Sabine Royalty Trust Daily - Enter your email address below to receive a concise daily summary of the latest news and analysts' ratings for Sabine Royalty Trust and related companies with MarketBeat.com's FREE daily email newsletter.