Solis Tek Inc. (OTCMKTS:SLTK) – Equities researchers at Taglich Brothers issued their FY2017 earnings estimates for shares of Solis Tek in a research report issued on Monday, according to Zacks Investment Research. Taglich Brothers analyst J. Nobile forecasts that the company will earn ($0.21) per share for the year. Taglich Brothers also issued estimates for Solis Tek's Q4 2017 earnings at ($0.03) EPS, Q1 2018 earnings at ($0.01) EPS, Q2 2018 earnings at ($0.02) EPS, Q3 2018 earnings at ($0.02) EPS, Q4 2018 earnings at ($0.01) EPS and FY2018 earnings at ($0.06) EPS.
Solis Tek (OTCMKTS:SLTK) last posted its quarterly earnings results on Tuesday, November 14th. The company reported ($0.04) earnings per share (EPS) for the quarter. The firm had revenue of $1.99 million for the quarter. Solis Tek had a negative return on equity of 575.33% and a negative net margin of 77.38%.
Solis Tek (
OTCMKTS SLTK
) traded up $0.14 during midday trading on Thursday, hitting $1.68. 239,841 shares of the stock traded hands, compared to its average volume of 154,485. The company has a debt-to-equity ratio of 1.11, a quick ratio of 0.63 and a current ratio of 1.48. Solis Tek has a one year low of $0.25 and a one year high of $3.44.
ILLEGAL ACTIVITY WARNING: This article was originally reported by Week Herald and is the sole property of of Week Herald. If you are reading this article on another publication, it was illegally stolen and republished in violation of US & international copyright & trademark legislation. The original version of this article can be viewed at https://weekherald.com/2017/12/10/taglich-brothers-comments-on-solis-tek-inc-s-fy2017-earnings-sltk.html.
About Solis Tek
Solis Tek Inc, formerly Cinjet, Inc, is an importer, distributer and marketer of digital lighting equipment for the hydroponics industry. The Company provides aptitudes with its ballast, reflector and lamp products. The Company is focused on the research, design, development and manufacturing of indoor horticulture lighting and ancillary equipment.
Get a free copy of the Zacks research report on Solis Tek (SLTK)
For more information about research offerings from Zacks Investment Research, visit Zacks.com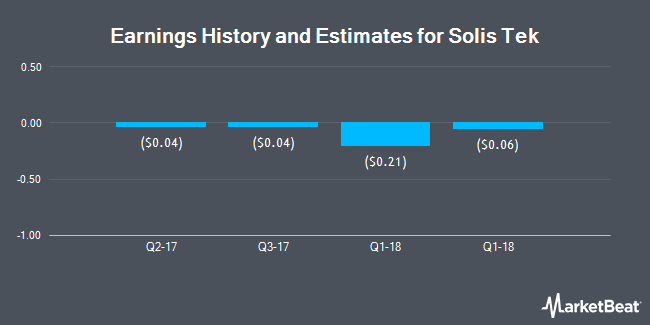 Receive News & Ratings for Solis Tek Inc. Daily - Enter your email address below to receive a concise daily summary of the latest news and analysts' ratings for Solis Tek Inc. and related companies with MarketBeat.com's FREE daily email newsletter.