Motif Bio PLC (LON:MTFB)'s stock had its "buy" rating restated by investment analysts at Peel Hunt in a research note issued on Wednesday. They currently have a GBX 106 ($1.39) price target on the stock. Peel Hunt's target price suggests a potential upside of 192.99% from the company's previous close.
A number of other analysts have also recently commented on MTFB. Northland Securities reaffirmed a "buy" rating on shares of Motif Bio PLC in a research report on Wednesday. FinnCap reaffirmed a "buy" rating and set a GBX 100 ($1.32) price target on shares of Motif Bio PLC in a research report on Wednesday, August 9th. Finally, Beaufort Securities reaffirmed a "speculative buy" rating and set a GBX 110 ($1.45) price target on shares of Motif Bio PLC in a research report on Monday, October 2nd. One research analyst has rated the stock with a hold rating and four have given a buy rating to the company. The company currently has a consensus rating of "Buy" and a consensus price target of GBX 101.50 ($1.33).
Shares of Motif Bio PLC (LON:MTFB) opened at GBX 36.18 ($0.48) on Wednesday. Motif Bio PLC has a 52-week low of GBX 21.44 ($0.28) and a 52-week high of GBX 51.75 ($0.68).
COPYRIGHT VIOLATION NOTICE: "Motif Bio PLC (MTFB) Given "Buy" Rating at Peel Hunt" was originally published by Week Herald and is owned by of Week Herald. If you are accessing this report on another publication, it was illegally stolen and republished in violation of United States and international trademark and copyright legislation. The correct version of this report can be viewed at https://weekherald.com/2017/11/15/motif-bio-plc-mtfb-given-buy-rating-at-peel-hunt.html.
Motif Bio PLC Company Profile
Motif Bio plc is a clinical-stage biopharmaceutical company. The Company is engaged in development of antibiotics, which are designed for treatment of infections caused by multi-drug resistant bacteria. It operates in the development and commercialization of pharmaceutical formulations segment. The Company is focused on development of its product, Iclaprim, for the treatment of the bacterial infections, such as acute bacterial skin and skin structure infections (ABSSSI) and hospital acquired bacterial pneumonia (HABP), including those caused by resistant strains, such as methicillin-resistant Staphylococcus aureus (MRSA) and multi-drug resistant Streptococcus pneumonia (MDRSP).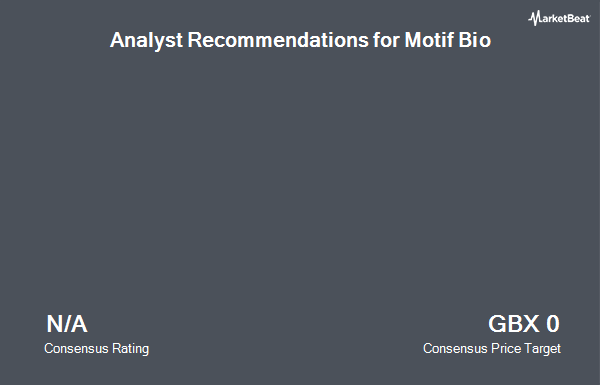 Receive News & Ratings for Motif Bio PLC Daily - Enter your email address below to receive a concise daily summary of the latest news and analysts' ratings for Motif Bio PLC and related companies with MarketBeat.com's FREE daily email newsletter.