Financial Institutions, Inc. (NASDAQ:FISI) declared a quarterly dividend on Wednesday, August 23rd, RTT News reports. Investors of record on Thursday, September 14th will be given a dividend of 0.21 per share by the bank on Monday, October 2nd. This represents a $0.84 annualized dividend and a dividend yield of 3.10%. The ex-dividend date is Wednesday, September 13th.
Shares of Financial Institutions (FISI) opened at 27.10 on Tuesday. The company's 50-day moving average is $27.31 and its 200 day moving average is $30.54. The stock has a market cap of $406.45 million, a P/E ratio of 13.23 and a beta of 1.20. Financial Institutions has a 1-year low of $25.65 and a 1-year high of $35.40.
Financial Institutions (NASDAQ:FISI) last released its quarterly earnings data on Tuesday, July 25th. The bank reported $0.40 earnings per share (EPS) for the quarter, missing the Thomson Reuters' consensus estimate of $0.48 by ($0.08). Financial Institutions had a net margin of 20.08% and a return on equity of 10.03%. The firm had revenue of $36.76 million during the quarter. Equities research analysts anticipate that Financial Institutions will post $1.96 EPS for the current year.
TRADEMARK VIOLATION NOTICE: "Financial Institutions, Inc. to Issue Quarterly Dividend of $0.21 (FISI)" was first posted by Week Herald and is the sole property of of Week Herald. If you are viewing this report on another publication, it was stolen and reposted in violation of international trademark & copyright legislation. The correct version of this report can be viewed at https://weekherald.com/2017/09/19/financial-institutions-inc-fisi-to-go-ex-dividend-on-september-13th.html.
A number of equities analysts have issued reports on the company. ValuEngine cut Financial Institutions from a "buy" rating to a "hold" rating in a report on Thursday, September 7th. Piper Jaffray Companies reissued a "hold" rating and issued a $31.50 price target on shares of Financial Institutions in a research report on Thursday, August 3rd.
Financial Institutions Company Profile
Financial Institutions, Inc is a financial holding company. The Company conducts its business through its subsidiaries: Five Star Bank (the Bank), a New York chartered bank; Scott Danahy Naylon, LLC (SDN), a full service insurance agency, and Courier Capital, LLC (Courier Capital), an investment advisory and wealth management company.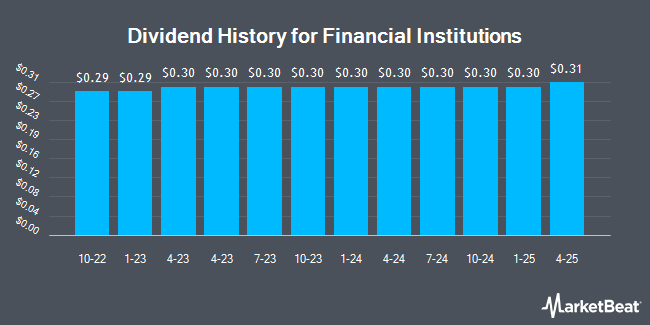 Receive News & Ratings for Financial Institutions Inc. Daily - Enter your email address below to receive a concise daily summary of the latest news and analysts' ratings for Financial Institutions Inc. and related companies with MarketBeat.com's FREE daily email newsletter.